A home network is a tremendously useful, in-demand feature that presents exceptional value to the homebuyer. As such, pre-wiring is becoming the standard in new homes and other residential buildings being built today.
The TIA/EIA strongly recommends their standards be followed when new homes or residential buildings and or renovations of residential buildings are done. The TIA/EIA spell out what the minimum wiring standards should be to take advantage of today's technologies and beyond.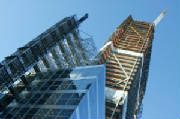 Vast Metro Communications specializes in the proper installation of telephone / Data / CATV / Satellite / and broadband Internet cabling and distribution equipment. We ensure that installation meets or exceeds codes and standards, as well as the client's requirements.
TIA/EIA lays out two different types of residential outlets in the home, Grade 1 and Grade 2. Learn more about these outlet types below: