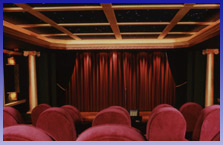 There's no doubt that Home Theaters are in high demand in today's market and can often sway a buyer to consider one home over another. A home theater is more than just a nice TV & good sounding speakers. A properly installed home theater captures the ambience of a true theater. We've discovered that it often takes just a single encounter with a well designed home theater for most people to begin thinking of a home theater system of their own.

Vast Metro Communications focuses on the details that are usually overlooked when planning a home theater, such as the correct acoustics, lighting senses, proper seating positions, style as well as the electronic components that make up the home theater.

Advanced home theaters include some elements of home automation and custom lighting.